OUR STORY
What do you do when you keep hearing, "you should make this a business"? You take their advice and make it a business. We've been making fudge for over 10 years, and it started pretty much like everyone else's fudge - homemade in a pan using mom's recipe.
Fudge Friday
I worked at a large mortgage company as a VP of Software Development, and to lighten the mood, I would bring homemade fudge for the hundreds of IT people to share every Friday. We appropriately called this "Fudge Friday". At first, I would leave the fudge in my office - being the new person to the team and trying to learn as many faces as I could, it provided a reason for people I wouldn't typically interact with on a daily basis to stop by and talk. I met a LOT of people this way.
It's my first day
After some time, I saw many of the same faces and decided it was time to change it up. So - instead of putting the fudge on my desk in my office, I would find out who the newest person to the team was, put it on their desk, and email the team with a short introduction. "Meet Matt, our Fudge Friday ambassador of the week. He works on the compliance team as a software engineer. Stop by, say hello, and get some fudge!".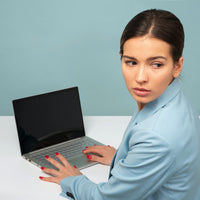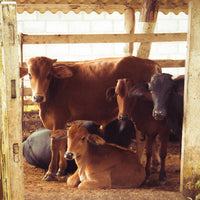 What about dairy free?
This went on for many months...every Friday. Over the course of a year we determined that over 250 pounds of fudge were consumed by the team - which had doubled in size to over 1000 people. Somewhere in there, a lady asked me if I had ever made it without dairy. I said no, and she provided some potential substitute ingredient suggestions. It took some time, but eventually we dialed-in our dairy-free vegan recipes and now it will knock your socks off.
Go big or go home
Making fudge for 1000 people every week is time-consuming, and the batches were nowhere near large enough. After several trips to Mackinac Island - Michigan's Home of Fudge, we decided we needed to learn more and upgrade. We took a trip to Frankemuth - Michigan's Second Fudge Home - to learn more. We happened upon a shop where the owner agreed to spend a day cooking with us. We learned a lot and decided to invest in a 400-pound marble table and classic Savage Brother's candy stove. Our batch sizes have more than tripled, and frankly - it's still hard to keep up with all of our loyal customers.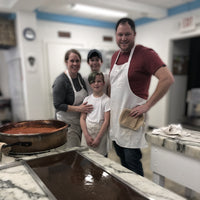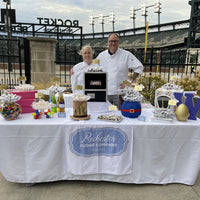 The story continues...
People continued to suggest turning my passion into a business, and we finally made the leap. We started selling at farmer's markets (still do), charity events, corporate events, and today, over 90% of the fudge we sell is dairy-free and uses vegan ingredients. We're always taking suggestions for new flavors, and provide the best level of care and customer service. The dream is to one day own a brick-and-mortar location that rivals what you get on Mackinac Island. The fudge itself already does :).